April
9th – Guns & Hoses and Ice Hogs Game - Tickets and Volunteers
16th – Taking the Cape Off @ Hononegah High School
May
17th – Board Meeting Officer Voting
21st – Back the Blue Ride - Tinley Park to Psycho Silo Saloon
June
July
1st – Harlem/Roscoe Golf Playday 2 speakers and giveaways
19th – Board Meeting - main topic golf outing
30th – Charity Bus Ride - Rockford to Psycho Silo Saloon
31st – Suicide Awareness Ride Woodstock table - giveaways
August
5th – Golf outing/Dinner volunteers, gift baskets, hole sponsors, major sponsors, hole prizes
September
11th  – Woodstock Harley Davidson Ride to Remember 9/11
11th – 1st Annual Rockford Hero Climb
20th – Board Meeting
24th – Cops, Cars and K-9s
October
25th – Board Meeting
November
25th - Ice Hogs Jersey Night
Festival of Lights Sinnissippi
December
Date TBD – Shop with a Cop
20th – Board Meeting
24th – Law Enforcement Christmas

First Responder Appreciation Dinner
The Greg Lindmark Foundation invites all Active and Retired Officers, Deputies, Fire (City and Rural), Dispatchers, EMS, Corrections and Deputy Coroners to attend an annual First Responder Appreciation Night at the Venetian Club. This Appreciation Night includes a social hour, dinner and a guest speaker.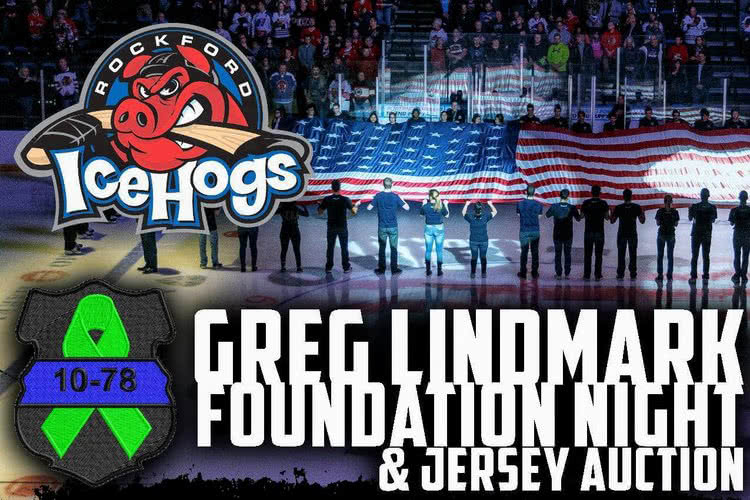 Rockford Icehogs - Greg Lindmark Foundation Night
The Rockford IceHogs and the Greg Lindmark Foundation teamed up to reduce the impact of cumulative stress and trauma on First Responders by providing awareness, education and confidential counseling. With each ticket sold, a portion of the proceeds go back to the foundation.
Annual Golf Outing and Dinner
The golf outing includes one flight, as well as dinner with a social hour.
Let all that you do be done in love.
1 Corinthians 16:14